Concrete Screener Hire London & UK

We provide concrete screener hire services to your project site in London & UK. We have high quality, resilient concrete screeners that are perfect for either recycling or sorting a wide variety of materials. Our service also comes with a fully qualified equipment operator who will operate the concrete screener for you. We are a reliable company that offers the best concrete screener hire services in this area. Our modern concrete screeners are able to sort different sizes of crushed concrete, which includes:
Type 1 Crushed Concrete

This recycled aggregate is suitable for use as a sub base for civil engineering, road construction and also general fill.

6F1 Crushed Concrete

This finer capping layer has an even grading of around 50mm.

6F2 Crushed Concrete

This is a 75mm crushed concrete that contains fines, which are called the crusher run.

6N Crushed Concrete

The size of particles here range from 20mm to dust and it is ideal for backfill material.

3-inch Clean Crushed Concrete

This is used as a road base, driveway construction and also for bridging over wet areas.
What We Provide
Contact us today for any questions or expert advice, particularly regarding what aggregates our concrete screeners can supply. Whatever your unique needs, we have a diverse range of concrete crushing and screening plant equipment available for quick hire. We serve both small scale domestic clients and large commercial contractors who are in need of concrete screener hire in around London & UK.
Get a Concrete Screener Quote below or feel free to get in touch with us on 0208 578 0507 to find out more about our reliable concrete screener hire services.

Concrete Screener Hire Quote
Interactive Quote System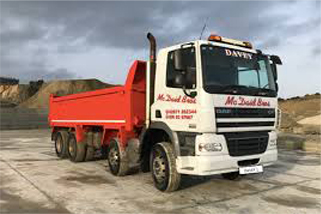 Concrete Screener Hire Gallery